Jesus' Sermon on the Mount
Matthew 5-7
Introduction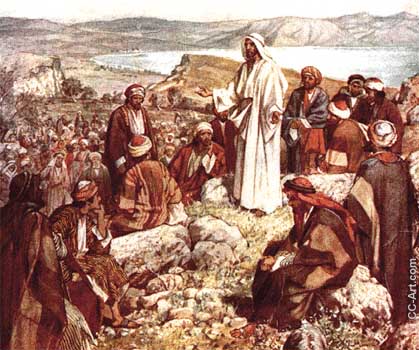 Jesus went up a mountainside and spoke to His disciples and the crowds of people.

Jesus traveled from town to town in the region of Galilee. He preached in the Jewish synagogues and healed the sick. He became very popular with the people, and great crowds followed Him wherever He went.

One day Jesus went up a mountainside and spoke to His disciples and the crowds of people. This "Sermon on the Mount" outlines the right ways for us to approach God and to deal with other people.
The Beatitudes (5:3-12)
Jesus said the truly fortunate people are those who are rich in the things that matter to God, not those who have money, power, popularity or fame. The things that are important in God's kingdom are often the opposite of the worldly things we find so attractive. He gave this list of traits of people who find God's blessings:
The poor in spirit may lack money, fine clothes, luxury cars or even the necessities of life, but they put their trust in God instead of in worldly things.
Those who mourn feel sorry for any bad things they have done.
The meek are gentle, patient and ready to forgive other people.
Those who hunger and thirst for righteousness have a deep longing to obey God perfectly.
The merciful are generous, forgiving and compassionate. They try to relieve the suffering of other people.
The pure in heart are morally upright and sincere. Their thoughts and motives are pure as well as their outward actions.
The peacemakers work for reconciliation and understanding to prevent bitterness, family disputes, lawsuits, hostilities and war.
Those who are persecuted for righteousness' sake may suffer teasing, ridicule, discrimination or even physical harm because of their faith. We are not to seek persecution but to accept it cheerfully as the price of God's blessings.
Anger and Revenge (5:21-26, 38-48)
One of the Ten Commandments says, "You shall not murder," but Jesus said don't even stay angry or hold a grudge against another person! If we even think about revenge, we are already guilty of a sin. We should try to be on good terms with everyone.

The Old Testament law was "An eye for an eye, a tooth for a tooth." In other words, if someone was injured, the person who caused the injury should be injured in the same way. But Jesus said we should not try to get even at all! Holding a grudge can consume us with hatred, blocking out all enjoyment of life. A grudge clouds our judgment and may lead us to an act of revenge that can never be undone.

Jesus said we should even love our enemies! Just as God loves all His children, both the good and the bad, we must show kindness and respect even to those people who want to do us harm.

Putting aside fears, prejudices, resentments and hatreds and showing Christian love and compassion for all people is the mark of true children of God. Anger, hatred, harsh words, retaliation and revenge only result in more of the same. Only love can conquer evil (Romans 12:17-21).
Marriage (5:27-32)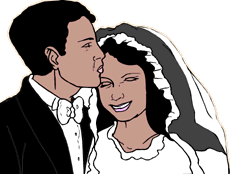 "Love is patient, love is kind."

Every young man and woman who fall in love and get married believe their love will last forever. But as soon as the honeymoon is over, the strain of adapting to the other person's preferences, ways of doing things, idiosyncrasies and moods begins to chip away at that love. Before long, many couples find their marriage drifting toward divorce.

But Jesus said marriage is meant to last for a lifetime. Not only must be we faithful to our spouse, we must not even think about being unfaithful! And we must do everything possible to avoid divorce.

The thrill of romantic love fades away in time. That is when Christian love must take over. Instead of looking for a new partner, we must learn to truly love the partner we have. We must put aside our anger, forgive our spouse a million times over, always be faithful, subdue our pride and ego, and always let true love guide our actions. As the apostle Paul said,
Love is patient; love is kind; love is not envious or boastful or arrogant or rude. It does not insist on its own way; it is not irritable or resentful; it does not rejoice in wrongdoing, but rejoices in the truth. It bears all things, believes all things, hopes all things, endures all things. (NRSV, 1 Corinthians 13:4-7)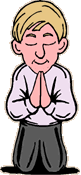 The Lord's Prayer(6:9-13)
The Lord's Prayer is Jesus' model of a perfect prayer. Many of us pray this prayer in church every Sunday but seldom stop an think about what it really means.

Our Father who art in heaven, Hallowed be thy name. We know that God is the master of all the universe. He is holy and all-powerful. But, like a father, He also loves and protects us. We wish for all people to honor God and His holy name.

Thy kingdom come. Thy will be done on earth, as it is in heaven. God's spiritual kingdom is within the hearts and minds of those people who put their faith and trust in God and obey His commands (Matthew 3:2, Luke 17:20-21) We pray for more and more people to trust and obey God and become part of His kingdom (Mark 4:30-32).

Give us this day our daily bread. We know that everything we have is a gift from God. We ask God to give us the food and other things we need for daily life.

And forgive us our debts, as we forgive our debtors. In a way, our sins are like "debts" owed to God. We ask God to forgive us for doing things that are wrong and for failing to the good things we should. We know that we must also forgive other people who have done wrong to us. We cannot expect God to forgive our sins while we are holding a grudge or seeking revenge against another person (Matthew 6:14-15, 18:23-35).

And lead us not into temptation, but deliver us from evil. Every day we are tempted to commit sins such as greed, immorality, hatred, revenge, theft and gossip (Matthew 15:19-20, Luke 12:15, Galatians 5:19-21). We pray for the strength to resist these temptations of daily life (James 1:12-16). We ask God to protect us from Satan's power to fool us into thinking wrong is actually right (Genesis 3:4-5, 1 Corinthians 10:13, 2 Corinthians 11:3, 11:13-15).

For thine is the kingdom, and the power, and the glory, for ever. This doxology, or brief hymn of praise, was not part of Jesus' original prayer. It comes from 1 Chronicles 29:11 and was probably added for use in public worship.

Amen. This word from Hebrew means "truly." It is often added at the end of prayers to mean, "Let it be so!"
Money (6:1-4, 6:19-21, 6:24)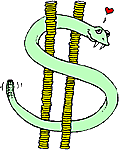 "The love of money is a root of all kinds of evil."

In Old Testament times, people thought being rich and having nice clothes and big houses was a sign of God's favor. But Jesus said just the opposite: being rich can actually distract us from our duties to God and other people (Matthew 19:23-24, Luke 12:15). Rather than putting our trust in the uncertainty of money, we must put our trust in God:
Do not store up for yourselves treasures on earth, where moth and rust consume and where thieves break in and steal; but store up for yourselves treasures in heaven, where neither moth nor rust consumes and where thieves do not break in and steal. For where your treasure is, there your heart will be also. (NRSV, Matthew 6:19-21)
Being obsessed with collecting wealth is a sin similar to the idol worship prohibited by the First Commandment (Exodus 20:2-6, Colossians 3:5):
No one can serve two masters. Either he will hate the one and love the other, or he will be devoted to the one and despise the other. You cannot serve both God and Money. (NIV, Matthew 6:24)

For the love of money is a root of all kinds of evil, and in their eagerness to be rich some have wandered away from the faith and pierced themselves with many pains. (NRSV, 1 Timothy 6:10)
Those of us who are blessed with wealth beyond our needs have a responsibility to share with the less fortunate (Proverbs 14:21, Isaiah 58:10-11, Matthew 25:31-46, 1 John 3:17). A sincere concern for other people is much more important than whether we are able to give a small or large amount to charity (Matthew 6:1-4, Luke 21:1-4). There is nothing wrong with enjoying life and having the things we reasonably need. But we must remember that service to God and other people is more important than collecting wealth.
The Golden Rule (7:1-5, 7:12)
In everything, therefore, treat people the same way you want them to treat you... (NAS, Matthew 7:12)
This "Golden Rule" is often stated as, "Do unto others as you would have them do unto you." This simple rule is a good summary of all Jesus said about how to treat other people. We should do acts of kindness for other people in the same way we would like to have acts of kindness done for us. Also, we should not do or say anything to another person that we would not want someone to do or say to us.
Jesus said we should not criticize or find fault with other people. We do not have any right to condemn another person as a "sinner" because we are all sinners in one way or another (Proverbs 20:9, Ecclesiastes 7:20, Romans 3:23, 1 John 1:8-10).
Jesus often stated the Golden Rule in another way, "Love your neighbor as much as you love yourself" (Matthew 22:39-40, Mark 12:31, Luke 10:25-28).
Don't Worry - Trust in God (6:25-34, 7:7-11)
Jesus said we should not worry too much about worldly things like food and clothes. Of course, we must have food and clothing, and we must work to pay for the things we need. But our spiritual life is much more important than these day-to-day cares and worries. If we pray to God, He will make sure we have the things we need (but not everything we may want).
So do not worry, saying, 'What shall we eat?' or 'What shall we drink?' or 'What shall we wear?' For the pagans run after all these things, and your heavenly Father knows that you need them. But seek first his kingdom and his righteousness, and all these things will be given to you as well. Therefore do not worry about tomorrow, for tomorrow will worry about itself. Each day has enough trouble of its own. (NIV, Matthew 6:31-34)
Questions
Do we really have to live the way Jesus taught in the Sermon on the Mount? Isn't it too hard for anybody to really do those things? Isn't it good enough just to obey the Ten Commandments? Didn't Jesus mean it just for His twelve apostles? Wasn't He just telling how things would be in a perfect world? Wasn't He just telling how things will be in heaven or in His future kingdom?
Jesus directed the Sermon on the Mount primarily to His disciples (Matthew 5:1-2). But "disciple" just means a person who learns from a teacher, and Jesus had many more disciples than just the twelve apostles (Matthew 8:21, Luke 6:17, John 6:66). Jesus also directed this sermon to the crowds of other people who came to hear Him preach (Matthew 7:28-29).

Interpretations other than the plain meaning have been invented to explain away many of Jesus' difficult teachings, but Jesus said all these same things in other ways at other times. So, it is best to assume that the Sermon on the Mount is meant as a model of the perfect Christian life. We can never completely live up to the high goals Jesus set for us, but the Sermon on the Mount must be the perfect goal we sincerely try for every day (Matthew 5:48).
Lessons
Jesus said that God requires more of us than just living by a set of rules, as in the Old Testament. Many people of Jesus' time lived strictly by the Old Testament rules, but still found enough "loopholes" to live lives of wickedness and greed. They acted very holy in public, and they thought they we doing all that God required of them. But Jesus said they were hypocrites - like drinking cups that were washed clean on the outside but were filthy inside (Matthew 23:25-26).

Rather than any outward show of holiness, it is our inner lives (attitudes and motives) that really matter to God. Rather than living by a set of rules, Jesus said we should live by two great principles: 1) humble obedience to God above all else and 2) sincere respect and kindness for all people of the world (Matthew 22:34-40, Mark 12:28-31, Luke 10:25-28, John 13:34-35). If we truly live by these principles, we don't have to worry about following a set of rules (Romans 13:9-10, 1 Corinthians 9:20-21, Ephesians 2:11-15).

None of us can measure up to the vision of moral perfection that Jesus presents in the Sermon on the Mount. But it is the goal we must continually strive for. When we fail to live up to the ideal, we must ask God for forgiveness and sincerely resolve to do better in the future. The good news is that, no matter how serious the sin, God is always seeking us out and is willing to forgive our sins and give us a fresh start!